Composition: 100% regenerated nylon
Wilton woven carpet: cutpile
Backing: PES/latex, glassfibre & jute
Sizes: standard sizes, special sizes & broadloom
100% recyclable yarn - cradle to cradle
Class 32 general commercial use
A ship is safe in harbor...
but that's not what ships are built for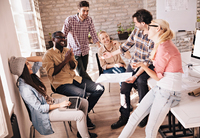 Think about:
harboring green buildings,
harboring healthy workspaces,
harboring steady livings.
With the HARBOR colors in these places,
you have all the aesthetics
together with the design and its benefits,
Think about only: harboring me!

Harbor is perfect for commercial projects.
As a class 32 product, it is the ideal rug for your conference room, office, entrance etc ...